Après la nomination de Dennis Allen en tant que nouvel HC, les Raiders continuent de signer de nouveaux coachs.
Dennis Allen a proposé le post d'OC à l'actuel coach des Texans, Greg Knapp.
Ce dernier a accepté le poste. Knapp est un ancien de la maison, il était déjà l'OC des Raiders en 2007 et 2008.
En outre, les Raiders ont un nouveau DC en la personne de Jason Tarver. Tarver était le DC de l'université de Stanford. Les Raiders ont également annoncé la nomination de 2 nouveaux coachs. Le premier est Keith Burns qui serait le coach assistant de la ST, le second est Johnny Holland qui sera le nouveau coach des linebckers.
Un point sur le staff des Raiders :
Head coach => Dennis Allen
Offensive coordinator => Greg Knapp
Running backs coach => Kelly Skipper
Strength and conditioning coach => Al Miller
Assistant strength and conditioning => John Greico
Offensive Line coach => Frank Pollack
Assistant Offensive Line coach => Steve Wisniewski
Offensive Quality Control => Justin Griffith
Defensive Quality Control => Eric Sanders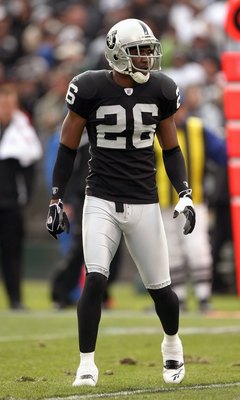 Du côté des joueurs, la surprise vient du départ du CB Stanford Routt. On a apprit que les Raiders ont décidé de le cuter. Ce qui est étonnant est que Routt avait signé un nouveau contrat de 5 ans pour 54 millions de dollars.
Cette surprise doit venir au fait que Routt est le CB qui a été le plus pénalisé de la ligue et a encaissé 8 TDs.
Il semble que les Patriots et Cowboys seraient intéressés par Routt.